Imagine Magazine Student Handbook 2011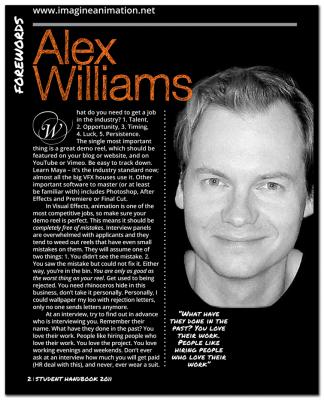 Flip Animation, 2008
'Five Questions Plus Two For Alex Williams'
Variety, April 23, 2007
Animation Lab goes 'Wild'
Israeli studio unites LaZebnik, Williams
By Ben Fritz
New Israeli toon studio Animation Lab has greenlit its first feature, "The Wild Bunch." Script by "Mulan" and "Pocahontas" writer Philip LaZebnik centers on a group of genetically modified cornstalks who attack a group of common wildflowers. CGI toon will be directed by Alex Williams, an industry vet who has worked on animated features including "Open Season," "Robots" and "Sinbad: Legend of the Seven Seas." "Wild Bunch" will be his debut as a director.
AWN news, April 23, 2007
Animation Lab to Produce First CGI Feature in Israel Animation Lab has begun pre-production on THE WILD BUNCH (working title), the first CGI animated feature film to be produced in Israel.
Alex Williams will make his highly anticipated directorial debut in the feature production. Animation vet Williams has animated, storyboarded and designed characters on more than 20 feature films for such major studios as Disney, Universal, Warner Bros, Fox, DreamWorks and Sony. He has dozens of credits, including WHO FRAMED ROGER RABBIT, THE LION KING and OPEN SEASON. Most recently, Williams supervised the animation on Disney's upcoming feature, UNDERDOG.
"We are honored to partner with Alex, who is recognized by his peers as one of the industry's true talents," Weinerman said. "As we move forward with this project, we are pleased to have assembled a team of the top animators and storytellers in our profession. Our goal is to reward passion and vision in a creatively friendly environment."
THE WILD BUNCH is an animated comedy-adventure about a ragtag team of common wildflowers and plants who are attacked by an evil army of genetically modified cornstalks determined to take over their idyllic meadow.
April 2006, Cinesite press release
"Alexander Williams, who joins Cinesite in the spring, will immediately start work on the Walt Disney production of the comic character Underdog. Alexander has already worked with director Frederik Du Chau on Racing Stripes and is returning from Hollywood to take up his position as Animation Supervisor. A talented and experienced animator Alexander has an impressive credit list in a career so far spanning 18 years."
January 7th 2005 Press Release from Digital Dimension, Montreal:
Digital Dimension drove their character animation talent into transforming the title character "Stripes", from a nervous, stunned Zebra into a confidant stand out. "Under the guidance of industry veteran animation director Alex Williams, we elevated our lip-sync know-how to a soaring level," says Marc Hall, Digital Dimension's CG Supervisor on the project. He goes on to say, "The combination of great artists and great tools kept us at the fine edge of animation standards."
Dion Hatch, VFX supervisor on "Racing Stripes", quoted in VFXWorld Jan 14th 2005:
"It also helped that Alex Williams was the animation supervisor and he brought in a whole new way of looking at things. A lot of 3D artists are up on 3D animation, but they don't know the classical style. With the volume of the squash-and-stretch for the mouth movements, he brought in hundreds of drawings to show what the mouth shapes should look like and these drawings were extremely helpful,"
Interview
January 2010 Interview with Alex at www.leavinglaw.com
City AM Book Review
2009 Review of 101 Uses for a Useless Banker in City Am newspaper